Pleiadian Islands
Akigil al makmil! Kagnel, ramimil raegil, odoglil lagoeil. Laronil pemadhogil penasikil sodlal sinahil.
"Feelings are your guide. Trust your feelings and learn to express them, and do not blame anyone for how you feel. Be yourself, observe yourself. Look to understand any crisis you have been in or will be in." 
– Barbara Marciniak, Family of Light
Feeling the rhythmic resonance of the ocean waves, soft walls and flexible pathways bending and flowing with the wind and water, living structures woven with water, the Pleiadian Island cities bloom from tropical atolls and bubble deep within the seas. They are woven into the landscape, artfully crafted to disappear into the biosphere. Underwater tunnels, domes and spheres decorate the ocean floor, covered in coral and spilling into trenches and caves. Though most of the primary origin planet's surface is covered in water, the few cities and villages populating the sparse island chains are only a tiny fragment of the population spread throughout the deep, and orbiting in the outer atmosphere. From gargantuan transports to moon-sized motherships, the Pleiadians are more spread throughout the Galaxy than floating around home, but their original home planet is a treasure beyond measure and provides essential environments for the journey of Pleiadian initiation. Everything is alive.
Humanoid Species: The Tall Blues
Pleiadians are generally taller than the average human, and their skin tone ranges from an icy white to deep blue. Their large, often deep blue eyes seem to engulf everything in an ocean of acceptance. From an early age, they learn principles of resonance through studying water and the sound of their own voices. Eventually, young Pleiadian initiates learn to vibrate water to make it solid enough to walk upon, and they can communicate readily with Dolphins, Whales, and other Cetaceans. They begin by understanding life, evolution, and planetary health. After their planetary initiations, they learn that they are part of a Galactic Family, and they may travel the Universe to study other worlds.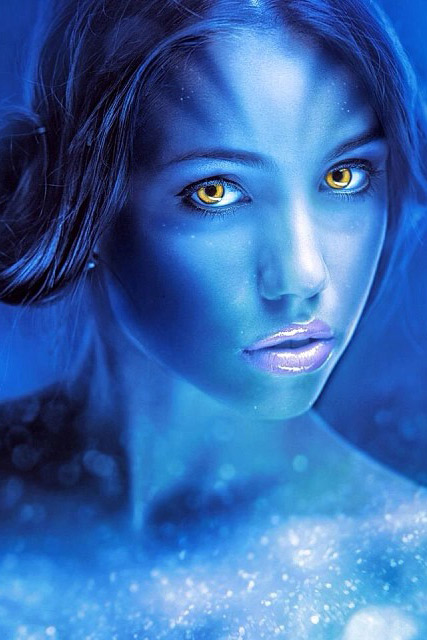 Qualia & Characteristics
Pleiadians are extremely empathic. They can feel the emotions of another individual, a group, or even an entire species, often as easily as they feel their own currents of energy. They are often gifted with singing abilities, musical talents, sound healing, and any science or technology involving water. Within them is a deep love song for the ocean, and simply returning to the sea after time away can bring them to tears. They are ancient friends of the Cetaceans, and regard all oceanic life as part of their family. In greetings, they often touch foreheads or simply gaze into each other's Souls. Group synergies often lead to collective sonic harmonization through vocal toning. They are telepathic, highly intuitive, and sensitive to humanity's mental and emotional challenges.